Murano Glass Dictionary
Are tiny Murano Glass beads, are made of fine glass tubes that are diced into colored sections and rolled in vats of hot sand to polish off the ends and round the corners, and then rolled in a finer sand to finely polish the surface of the bead, in 1900 in Murano island, there were around 3.500 people employed in the field of glass, most of them in the production of Conterie
(Seed beads
) ( Conteria )
The Murrina / Millefiori rod is a hollow or solid rod composed on the inside of concentric layers of glass in different colors which form, in section, a characteristic star of flower motif. Its production requires a number of open molds which press a star or flower pattern on each successive colored layer, after which the rod is pulled out dozens of meters. A distinct type of murrina / millefiori rod is the rosetta, which dates from the XV th century and presents characteristic star motifs in white, red and blue glass in alternate layers. The rod in generally cut into sections, which are often called murrine. If the rod is hollow, the sections may be smoothed and become beads. Solid sections may also be laid side by side and fused in the kiln to make pendants, or on a larger scale, dishes or bowls. The sections of millefiori rod also constitute the modular decorative element, fused to the bottom of a small hemispheric mass of crystal, for paperweights and Pearls.
CRISTALLO / CLEAR GLASS
(
Cotizzo
)
Cristallo in artistic glass production is transparent glass, homogeneous, absolutely colorless. The secret of quality in cristallo, which is glass, is the 100% purity of the raw materials, the use of bleaching agents, the preparation of the vitrifiable mixture, the fusion process. In the middle of the XVth century Murano invented a pure and colorless glass, which for the first time in history was called cristallo and was later imitated in other European countries. In contrast with Nordic crystal, which has a concentration of lead oxide and today must be subject to strict controls of the fumes deriving from its fusion, its contact with foods and its waste disposal, Murano cristallo is a sodic-calcic glass whose principal components, aside from silica, are sodium oxide and calcium oxide. Murano has always remained faithful to sodic cristallo because it is most suitable for the production of particularly light blown objects which require long working processes.
Opaque colored glass is obtained on the basis of the same principles but with a base of white opaline glass and a larger amount of raw coloring agents.
In the first phases of hot-work the glassmaster rolls the incandescent glass on the end of the blowpipe over thin leaves of gold or silver which adhere perfectly to the surface. As the glass is blown, the leaves pulverize into gold or silver dust.The gold or silver leaf may also be applied in decorating workshops on a completely cooled piece. Parts of it may be removed in a decorative pattern, using a sharp instrument. The object must be refired to set the decoration permanently on the glass wall. This technique is generally used together with enamel painting.
want to see videos of our processing of Murano glass, click on our : Youtube channel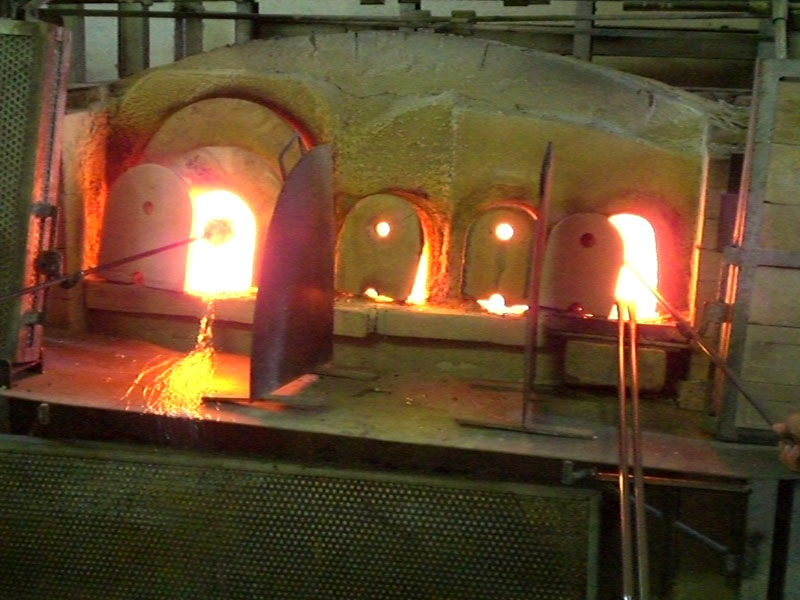 For further questions or more details, please visit the FAQ page on our web site.


Phone + 39 347 6687199 - Fax.+ 39 041 8842009
e-mail : info@muranoglass-jewellery.com
Venice - Italy